Our Mission & Vision
The mission of Greater Houston Burmese Christian Fellowship is to love God, to love others, and to magnify the name of Jesus Christ. The vision of our church is to glorify our God and Savior, Jesus Christ, to make true disciples throughout all the nations by means of caring, preaching, teaching, supporting mission activities, and to minister the ordinances, to edify believers, and to do all that is possible and permissible to magnify the name of Jesus.
Leadership Team:
Our leadership team recognizes the authority of God, and realizes that we are shepherds who serve under the Chief Shepherd, Jesus Christ. We desire to devote ourselves to prayer and to the ministry of the Word. Our passion and goal is to equip the believers for the work of the ministry until we all attain maturity in the fullness of Christ.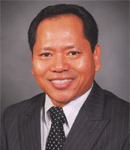 Rev. Dr. Thong Kho Lun, Pastor
As the primary teaching pastor, Pastor Thong Kho Lun has a passion for carefully teaching the truths of Scripture. He has served at Greater Houston Burmese Christian Fellowship for 7 years. He and his wife are bi-vocational, chaplains and pastors. Pastor Thong has earned his Bachelor of Theology (B. Th.) from Serampur College, India, his Master of Divinity (M. Div.) from Asian Theological Seminary in Manila, Philippines, his Master of Theology (Th. M.) from Asia Baptist Graduate Theological Seminary in Baguio, Philippines, and his Doctor of Ministry (D. Min.) from Oblate School of Theology in San Antonio, TX, USA. Pastor Thong is passionate about mission work and has a heart for the poor.

Rev. Dr. Mang Tiak, Associate Pastor
Pastor Mang, wife of Pastor Thong, serves as the Associate pastor of Greater Houston Burmese Christian Fellowship. She also serves as a full time senior staff chaplain at The Methodist Hospital in Texas Medical Center of Houston. Pastor Mang has earned her Bachelor of Law (L.L.B.) and Master of Law (L.L.M.) from the University of Rangoon, Burma (Myanmar), her Master of Divinity from Philippine Baptist Theological Seminary in Baguio City, Philippines, her Master of Theology (Th. M.) from Princeton University, New Jersey, and her Doctor of Ministry (D. Min.) from Chicago Theological Seminary in Chicago, IL. Pastor Mang also conducts seminars on family relationships and church leadership for Chin churches in USA. She is passionate about teaching human relationship, family issues, and pastoral care.
Mr. Christopher Hmun, Office Assistant
Chris is a musician and an IT. He serves as a leader of our Praise & Worship team as well as office assistant of our church, GHBCF. His responsibilities include book keeping, managing finance, helping church members for appointments to clinics, food stamp and medicaid office, hospitals, government offices, and work places, etc. Chris is passionate about music and worship.